It's hard to believe that 5 years ago I was exhibiting in the Glasgow School of Art Degree Show. There has been lots of change in those 5 years, but the annual degree show continues to raise interesting debate and attracts newspaper coverage.
Here is one article
http://local.stv.tv/glasgow/going-out/articles/228285-glasgow-school-of-art-degree-show-at-garnethill-campus-and-skypark/
The age of austerity and mankind's indifference to goats will be explored in the Glasgow School of Art's Degree Show.
Work from 123 students will take over the Mackintosh Building for the School of Fine Art's showcase.
The collection of painted canvases, video pieces, sculptures, multi-media installations, photography and performance works will be open to the public from June 8 until 15 at the Garnethill campus.
Sculpture and Environmental Art student James MacEacheran will be bringing live goats into his installation which challenges the US military's act of shooting animals to allow soldiers to practice binding wounds.
The 22-year-old explained the importance of the event: "It's the final hurdle of the year and it's a good opportunity to show your interests.
"My installation is quite unusual, for one of the days there will be goats there as part of it and for the rest it will just be really messy and smelling of goats. There's a lot of indifference to goats in the world, they are not really livestock and not really pets.
"Mostly, I just want people to be able to connect to goats and to understand they are not just a funny internet phenomenon. I don't come from a farming background, I'm more taking it from a military perspective but I also wanted to do something fun. There's more to goats than people think."
Artists from the Painting and Printmaking, Sculpture and Environmental Art and Fine Art Photography programmes will exhibit their work side by side for the week.
Kenyersel, real name Gordon Andrew McKerrow, has brought together two figures from the Glasgow music scene for a video portrait.
And there's a particular poignancy to the project after the death of one of the subjects, Dave Wilson, in May following a long battle with cancer.
Gordon said: "I wanted to look at these two Glasgow musicians; Dave Wilson, from the Uptown Shufflers, and Greg Aitken, a classical and jazz guitarist who busks on Ashton Lane. They may have been separated by generations but were such big characters that they had a lot in common.
"I wanted to connect them in a way, they've both grown up in different times but had the same attitudes and passion towards music. It's been interesting to draw their stories together. I recorded a video when they met each other but I've kept that out of the installation because I wanted the connection to be more implicit."
In other parts of the building visitors can find Glenn Kennedy's paintings examining recent disruptions in Belfast and Rosie O'Grady's multi-media project involving a camel which takes a fun look at the institution's past where 100 years ago staff would bring in live animals for students to draw.
The diversity of the showcase is further highlighted by an Austerity Cafe which Chris Silver will be running throughout the exhibition.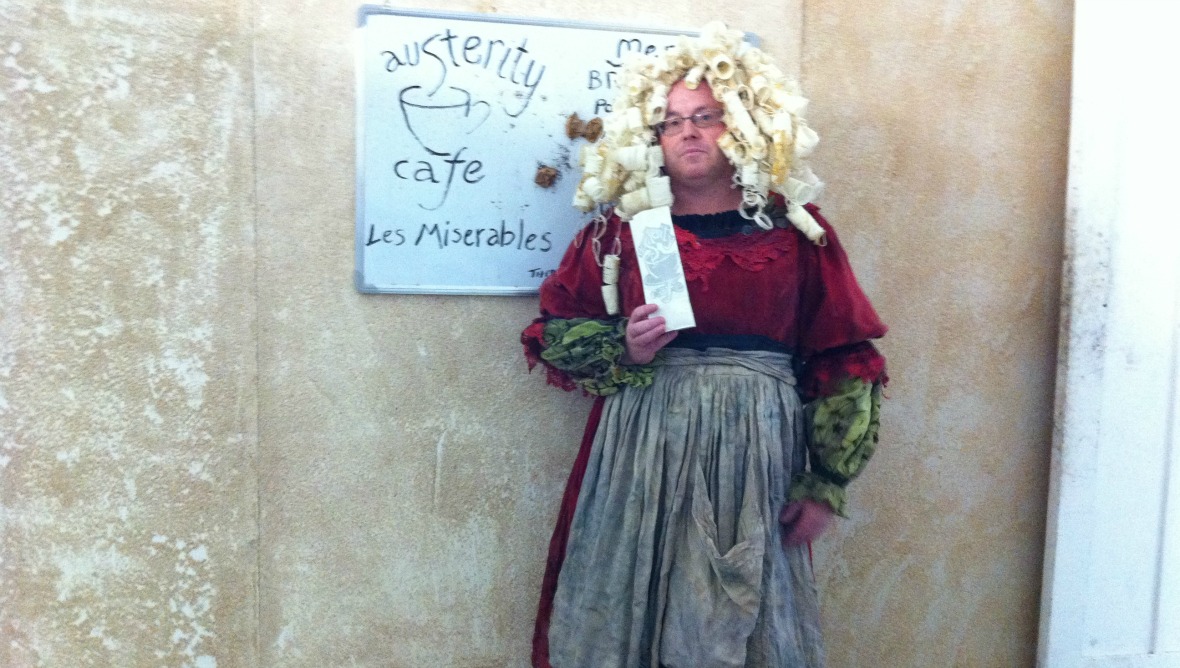 Chris Silver at the Austerity Café
Chris will be dressing up and coordinating morning and afternoon performances during the run. He said: "I started the project to try to make sense of austerity and what it meant. I decided to go on a porridge diet and use art in a way to reflect it and I've now ended up eating porridge for the last 138 days.
"When I started researching I found out that the chancellor George Osborne actually studied Modern History, so I thought maybe if I got a 2:1 in this it would qualify me to be a minister or a cultural secretary because it's a bit more relevant than George's background.
"Marie Antoinette was a natural link to the subject of austerity and I'm looking at it through the character Les Mis. I'll be performing and giving out goody bags containing things like porridge and once I've given everything out and there's no more bags to give away people can take the pegs from the walls so in the end there will be nothing else to give.
"I wanted to do something that people would either love or hate. I didn't want there to be an indifference, for this final show I wanted it to be memorable and for the Austerity Cafe to create a legacy of sorts."
Spread out over various sites, members of the public can also check out three floors of design displays by more than 140 students at the Skypark Campus.
The Design School output includes work by Ross Hogg, whose short film
The Man Who Mistook His Wife for a Hat
has been selected for a screening at the Edinburgh International Film Festival, and Francesca MacDonald's Raviolo Lavorio cookbook.
The Skypark will feature projects from the Silversmithing and Jewellery, Interior Design, Fashion and Textiles, Product Design, Communication Design and Product Design Engineering courses.
Elsewhere, work from 24 postgraduates will be on display at the Glue Factory until June 15.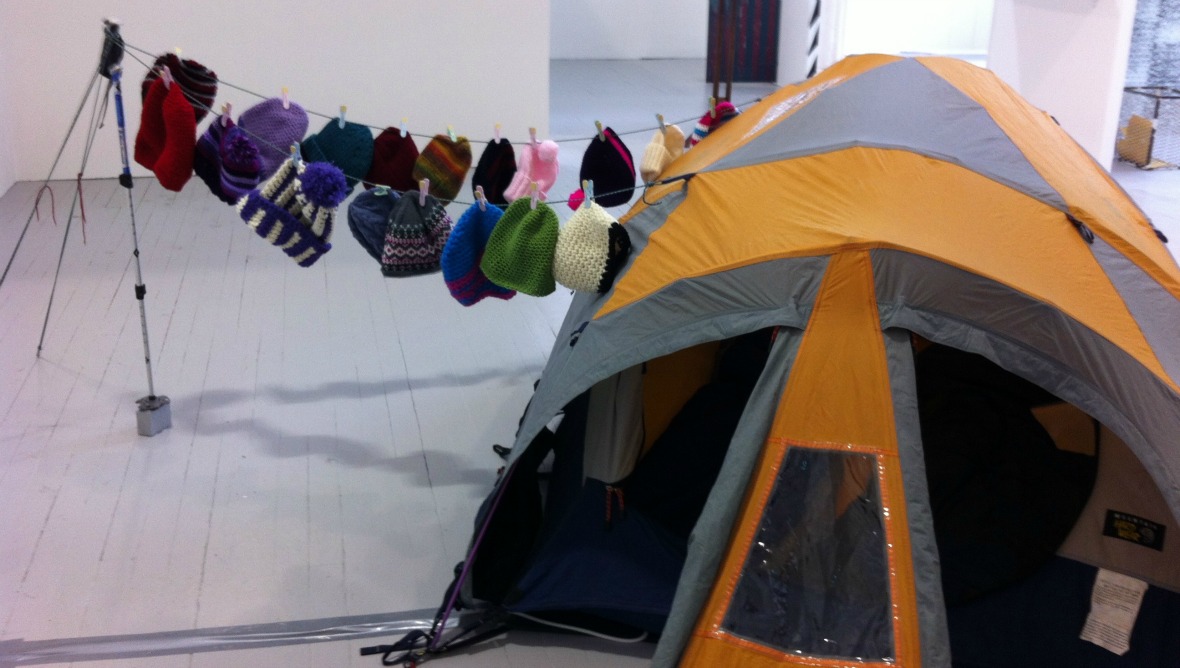 Jim Birrell head of painting and printmaking at the Glasgow School of Art says the Degree Shows are a unique opportunity to see up-and-coming artists.
He explained: "At the School of Fine Art there's a lot of focus on social conditions and austerity, much of it deals with the impact of the environment and every year it's interesting to see what the students will come up with.
"They are encouraged to be completely individual and have the scope to do whatever they want within their discipline. The studios are completely transformed for the shows and there's a lot of hard work that goes into the shows.
"It's an opportunity for people to see what goes on at the Glasgow School of Art. No doubt a few of these students will be well known in the future."
The Glasgow School of Art Degree Show is open 10am until 5pm Saturday and Sunday, 10am until 9pm Monday to Thursday, and on Friday from 10am until 7pm at the Garnethill Campus and Skypark Campus.
The MFA show at the Glue Factory is open daily between 11am and 6pm. For more go to the
Glasgow School of Art website
.